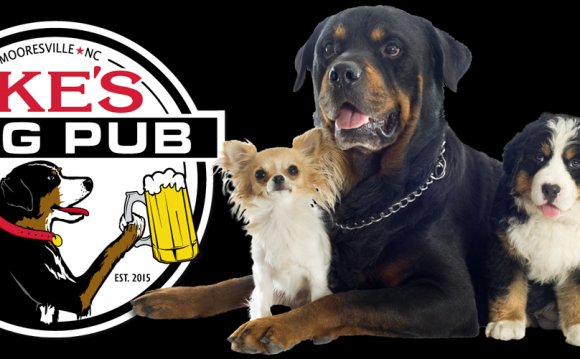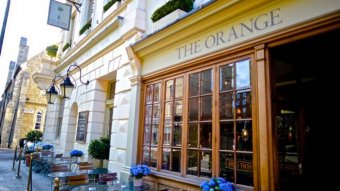 Back in Charles Dickens' day, if you wanted to stay overnight while traveling in London, you might have stayed at an inn or perhaps at a pub or alehouse with rooms upstairs (usually sharing a bed with strangers and maybe some lice or bedbugs).
It would have been a simple affair—just a few rooms on the upper floors and a place to eat and drink below. No concierge or fitness room or ornate lobby. The first proper English hotel, in Exeter, according to one source, didn't appear until 1768.
Most London pubs no longer have bedrooms for rent above the shop, but a surprising number still do, and over the past few years several forward (or backward) thinking entrepreneurs have revived the concept, opening surprisingly upscale gastro pubs with a few luxurious yet affordable (for London) rooms upstairs.
The cool thing about these establishments is that you don't have to go very far for a "destination" experience—it's just a few flights down.
The pub food is satisfying, the crowd local and convivial, the beer cold (or, if you're English, suitably warm). The ground floor bars and restaurants are places you'd normally go out of your way to experience, but you're staying two or three flights up and in places near things you'd want to visit. They're intimate and cozy, historic and luxurious, have a sense of place, and are less expensive than what you'd pay at the Savoy, an intimate "townhouse" hotel or even a Radisson.
London has long had boutique hotels such as Blakes and Number 16, but these newer, comfy pubs-with-rooms are even closer to staying in someone's home because they're so small. Most have only four or five bedrooms (one I stayed in has a grand total of ten). Plus, if you want to enjoy a fine meal in a destination restaurant, it's only steps away.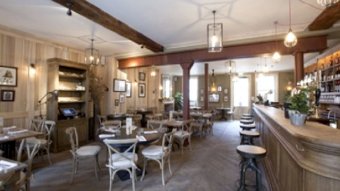 There are no long corridors to get lost in, no cookie cutter sameness, no rowdy conventioneers or prom night teenagers roaming the halls. It's just a more intimate experience, and much more affordable than the typical London boutique hotel.
On a recent visit I sampled four such pubs-with-rooms. And I'm in love with them all.
1.&nbspThe Orange
37 Pimlico Road, London
Nearest tube: Sloane Square
A former brewery/pub dating from 1846 in the tony Pimlico Road area, a short walk from Sloane Square and Belgravia, downstairs you'll find a classic pub serving drinks and food; one flight up a restaurant packs in locals and visitors alike; and, above that, four rooms with private bath welcome guests.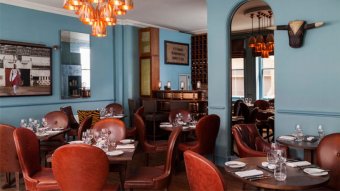 The rooms, all with king size beds, combine simplicity with style: wide plank floors, wood-paneled walls, period details, and vaulted beamed ceilings. Little touches such as a jar of freshly ground coffee and a French press, excellent lighting (bright enough for reading in bed, the lack of which is my main hotel bugaboo), hair dryers and irons, heated towel racks, an iPhone 5 dock, and large fluffy towels, show that details matter here. I also liked the fact that the windows opened to let in fresh air (a feature characteristic of all the places I stayed), unlike at those hermetically sealed high rise chain hotels I loathe, that the shower was forceful and offered plentiful hot water (again, a common feature at these pubs-with-rooms), and the beds were as comfortable as home. Beware, though, rooms are not handicap accessible; there is no elevator.
Quibble: the pub is on a busy street and traffic noise could be an issue for light sleepers.
Rates: begin at 205 pounds ($282) per night for a standard room including tax.
2.&nbspThe Grazing Goat
6 New Quebec Street, London
Nearest Tube: Marble Arch
What's in a name? Near this spot on a quiet street in the Marylebone neighborhood and just off Oxford Street, an aristocrat grazed goats because she was allergic to cow's milk. Today, it's a restaurant, gastro pub, and B&B with eight rooms on the higher floors. My room overlooked rooftops and the street below, and although it lacked air conditioning a couple of fans provide a cooling breeze. The large bathroom came with all the luxuries you'd find in any boutique hotel, including heated towel racks and a deep soaking tub. Free local and intra-U.K. phone calls and WiFi, and a hearty breakfast, come with every room.
Décor is modern country house (Room and Board or Crate and Barrel rather than Laura Ashley)—unfussy and functional.
Quibble: no room-darkening curtains.
Rates: start at 210 pounds ($289) per night including tax.
YOU MIGHT ALSO LIKE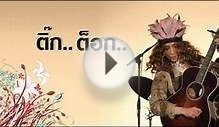 Palmy Stay With Shoot Pub Lopburi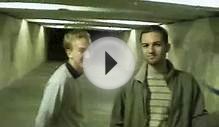 A Short Stay at Slovak Pub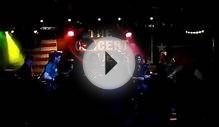 Alyson Chayns - Concert Pub North - I Stay Away
Share this Post