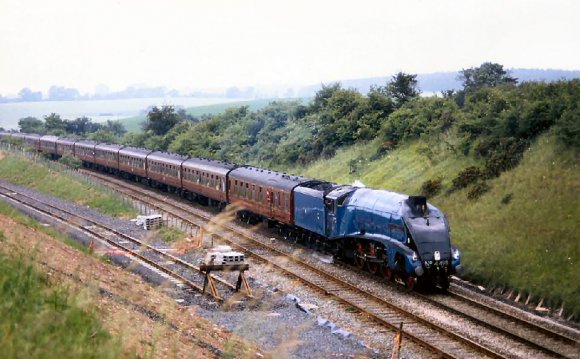 Address: Pickering Station, 2 Park Street, Pickering, North Yorkshire Y018 7AJ
Telephone: 08 Talking Timetable: 35
Line Length: 18 miles Gauge: 4ft 8½ inches
Route: Pickering to Grosmont or Whitby
Journey Time: 1 hour 5 minutes
Service: February 16 - 24 / March - Saturdays, Sundays, 25 - 29 / April 1 - October 31 every day / November 1 - 3
Tickets: Pickering to Grosmont Adult £18.00, Child £9.00, Family £34.00 (2 adults & 4 Children) unlimited travel on day of issue
Parking: Pickering YO18 7AJ, Levisham YO18 7NN, Goathland and Grosmont Stations.
Web Site:
Pickering Station: Refreshments, gift shop, carriage works, turntable
Goatland Station: Refreshments, gift shop
Grosmont Station: Refreshments, gift shop, shops, locomotive shed
The road to the important seaport of Whitby went over the Yorkshire moors, in poor weather conditions it was often impassable. To overcome this problem a railway was proposed. Plans were drawn up by George Stephenson who favoured a route from Pickering to Whitby. Approval was granted in May 1833 with work starting in September 1833. George Stephenson had estimated the cost of construction would be £48, 000 by the time it was completed over £105, 000 had been spent. Horses provided the motive power, though at one point the carriages were pulled up a steep 1:15 incline by rope at Beck Hole.
Many famous buildings in London, including Somerset House and Waterloo Bridge, were made from stone that started its journey on the Whitby and Pickering Railway.
The York and Midland Railway acquired the railway in 1845. Modifications were made to the route so that steam trains could be used, a stationary steam engine was installed to work the Beck Hole incline. By 1854 the railway had been taken over again, this time by the North Eastern Railway. Having the incline at Beck Hole was very inconvenient so the new owners built a deviation between Grosmont and Goatland. This allowed steam locomotives to travel along the complete line for the first time.
In the end were three railways serving Whitby they came from Pickering, Middlesborough and Scarborough. The Beeching Report of 1964 recommended that all three should be closed. There was strong local opposition to the closures, for a town the size of Whitby to have no railway was inconceivable. Finally the line to Middlesborough was reprieved, the short section from Whitby to Grosmont was kept open as this is part of the route. After 129 years there were no trains from Pickering to Whitby.
For two years the Pickering to Grosmont line lay neglected with rails rusting and paint peeling from abandoned stations. A Preservation Society was set up in June 1967 with the object of reviving the railway. British Rail granted a six month delay on track lifting. Permission was given to commence restoration and in February 1969 a small tank locomotive steamed from Pickering to Goathland.
With help from supporters, local authorities and the English Tourist Board the Society was successful in purchasing from BR the track from Grosmont-Pickering. A Light Railway Order was granted with the North Yorkshire Moors Railway (NYMR) being officially open by H.R.H. The Duchess of Kent on 1 May 1973.
Operational steam locomotives include Br 4-6-0 No.75029 'The Green Knight', LMS 4-6-0 No.45428 'Eric Tracy', SR 4-6-0 No.825, LNER 4-6-2 No.60007 'Sir Nigel Gresley'. A large fleet of locomotives is required to give a reasonable timetable on the long length of line. At peak times the service continues over the main line to Whitby.
YOU MIGHT ALSO LIKE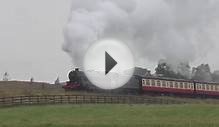 Autumn Steam - North Yorkshire Moors Railway - 2015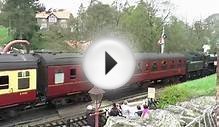 North Yorkshire Moors railway Steam gala - April 2014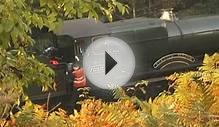 North Yorkshire Moors Railway Autumn Steam Gala 30th ...
Share this Post