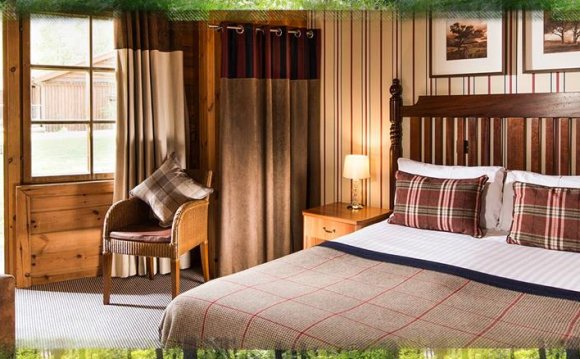 Shaken and more than a little stirred after a somewhat hair-raising taxi ride in the company of North Yorkshire's answer to Lewis Hamilton, this Mr and Mrs Smith arrive at the Feversham Arms Hotel & Verbena Spa in need of a stiff drink and a hearty meal. But even though our driver had been hell-bent on breaking the land-speed record on his drive between York station and Helmsley, the fact we'd left London much later than we'd intended means the hotel restaurant has been closed for 45 minutes before we emerge into the lounge, noses sniffing the air for the scent of food.
Ruffled and ravenous, we are all set for a night of gnawing at our own fists when we experience our first taste of what makes this hotel really special. James, the cheeky and charming Maître d' – who later picks up brownie points for remembering our favourite tipples – quickly heads off in search of the chef, who, even though he's off-duty, comes over to assure us he'll rustle something up while we unpack. Fifteen minutes later, a feast of roast halibut, cream and cherry tomatoes on a bed of tagiatelle, and duck breast nestled on crunchy local vegetables is delivered to our poolside suite. The word 'suite' is a bit misleading, actually; our accommodation is more of a private cottage with room service. With low-beamed ceilings, bold red and traditional racing green soft furnishings, bright glass vases and local pottery dotted throughout the lounge, dressing room and bedroom, it feels like our own secluded country retreat.
After dinner and a DVD from the hotel's extensive library – which gets full marks for including everything from grunts-and-guns action thrillers to Breakfast at Tiffany's – it's time to make use of what we quickly decide is the suite's best feature, the decadent and playful bathroom. 'You could have a party in here…' says Mr Smith. 'And, oh, what a party it would be.' I could go on for ages about the slate walls and floor, candles, incense, a stunning huge orchid in full bloom, room to swing a lion and a walk-in shower for 10, but why bother when the enormous bathtub is so impressive on its own? It's a traditional freestanding cast iron tub that's plenty big enough for two – we know because we tried it, of course.
Next morning, all the stresses of London have pretty much ebbed away to nothing, and we're ready to explore the dainty little market town of Helmsley. We enjoy a sturdy lunch in one of the many pubs, then it's time to hit the shops – a favourite weekend pastime of this particular Mr and Mrs Smith. Even though, to the casual observer, stone cottage-filled and drystone wall-lined Helmsley might not look like a retail paradise, we soon find ourselves laden with bags. The fashion stores aren't quite our style – they're a bit mature country casuals – but the gift and antique stores, galleries and local deli (which sells Wensleydale cheese with blueberry, cranberry or caramelised red onion) more than make up for this. Our favourite place is the glorious Saltbox gallery and workshop, housed in a 17th-century longhouse, where we fall in love with the work of local blacksmith and artist Pete Oberon. It takes Mr Smith a while to gently persuade me that there simply isn't enough room in our London pad for the six-foot, twisted-steel candleholder I am so enchanted by.
We make it back to the hotel just in time for the in-room spa treatments we'd booked that morning – hot-stone and aromatherapy massages with home-made lavender, thyme and eucalyptus oils, administered by a magic-handed therapist who gently works the last remnants of city living from our tired muscles. Then we face the only problem of the weekend. What to do when you're horizontally relaxed and have a couple of hours to kill before dinner? Do we chill out in the comfy lounge and flick through the thoughtfully laid-out art and history books, and lifestyle magazines; or do we listen to a CD or watch a DVD on the Bang & Olufsen system in our bedroom? We opt for another long, luxurious bath.
Clean, fragrant and feeling thoroughly spoiled, we wend our way down to the bar for a pre-dinner drink, where Cedric, the French barman-cum-waiter, is entertaining the locals by showing them how to mix the perfect Cosmopolitan. This Mrs Smith is now officially in heaven. Chef Simon Kelly then surpasses all our expectations by serving up a delicious garlic-roasted gnocchi with mushrooms, shallots and poached quails eggs, then a sirloin of beef on potato rösti in the light and spacious restaurant. Filled with relaxed and happy-looking couples and groups of friends of all ages, this is clearly a place with a strong regular clientele, who come not just for the food but the wonderful and personal service. When Cedric finds us agonising over dessert, he quickly takes charge, insisting we have a selection of local cheeses while we wait for the banana and hazelnut soufflé with home-made chocolate ice cream.
Walking back to the room is quite a struggle. Thank God there's no one around to see us waddle up the stairs. We leave the in-room stuffed poodle – another of our favourite Feversham touches, which acts as a canine do-not-disturb sign – outside our door to silently guard us from any hoover-wielding intruders.
Share this Post