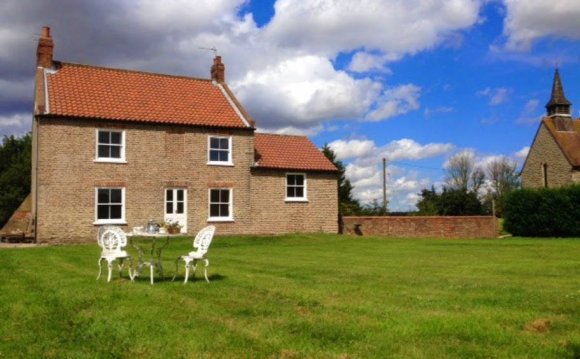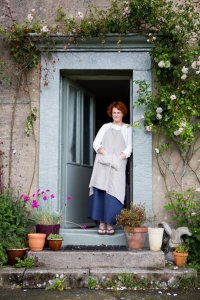 Name: Rachelle Blondel, husband Keith, children Tom, Jake, and Violet, Stanley the dog, and four cats
Location: North Yorkshire; England, UK
Years lived in: 14 years; Rented
'Tread gently, live simply' is sewn onto the aprons that Rachelle wears, it's the motto on her website, Dock & Nettle, it is the theme of her latest book, Forgotten Ways for Modern Days, and it's a motto that is reflected completely in her cozy family home filled with handmade beauties and rescued treasures.
This large, beautiful farmhouse sits within a little parcel of land that is also home to hens, pigs, and Maud the caravan. As part of a village estate, this unique rental property allows the family a lifetime lease and the security of a permanent home without the maintenance and upkeep costs that usually come with such an old building.
The official front door, with the rambling roses, is bypassed in favor of the entrance nearest the kitchen. As you come in you can turn right, into the kitchen or left into the living/dining room with huge stone fireplace. The Farrow & Ball-painted walls and floor add to the welcoming, calm, light, and airy space, and provide the neutral backdrop for Rachelle's beautiful furniture, delightful details, and creative vignettes.
There is not much in the house that is new, as most pieces have been with Rachelle and her family for many years. Most are finds from Freecycle and have been given a new lease on life thanks to Rachelle's skill for making, sewing, and crafting. Each piece has a story, something Rachelle loves; the dining room table for example, has casters because the lady who previously owned it had lost her mobility so she added wheels to all her furniture so she could stay in her own home for as long as possible. The drawers in the hallway beneath the stairs were purchased from a couple that had bought it on their 1st anniversary- and then parted with it on their 30th.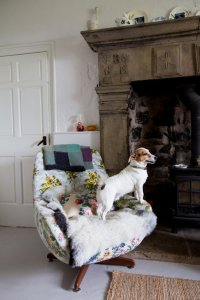 The ground floor also houses an old pantry that has been converted to house Rachelle's small ceramics room. Ceramics is an old/new passion for her, something she tried in her teens and has now found the time and space to pursue it. She's currently attempting to make the perfect bowl, while amassing a growing collection of beautiful spoons.
The kitchen layout and cupboards came with the house and Rachelle would love to change them if it were possible. Instead, to fit in with her style, she's added mismatched doorknobs from Anthropologie and made wall shelving from old drawers. The central island is from Ikea and has been stripped and painted. A staircase at the back of the kitchen leads up to Rachelle's studio. It is a large space filled with yarn for knitting/crochet and piles of beautiful fabrics just waiting to be made into clothing or to cover the next furniture project.
Upstairs, via the wooden staircase with the huge window, is the master bedroom (with an upcycled Ikea wardrobe lined with vintage wallpaper and a rail of Rachelle's handmade clothes), the boys' rooms, Violet's pretty bedroom and the family bathroom with freestanding bath.
Apartment Therapy Survey:
Inspiration: Anything that catches my eye
Favorite Element: The space and hallways
Biggest Challenge: Living in a damp, crumbling building
Biggest Indulgence: Linen bedding
Best Advice: Always use the most expensive paint you can afford. It does make a difference.
Dream Sources: Wishing I had more access to vintage/antique/second-hand markets and shops
PAINT & COLORS
Farrow & Ball Manor House Grey and Skimming Stone
LIVING ROOM
Sofa: Freecycle, recovered by Rachelle
All other furniture: Freecycle, eBay, Charity Shops
Rug: Ikea
DINING ROOM
Furniture: Freecycle, eBay, Charity Shops
BEDROOM
Wardrobe: Ikea, upcycled by Rachelle
VIOLET'S BEDROOM
STUDIO
Drawers and storage: Ikea
Other furniture: Freecycle, eBay, Charity Shops
Cutting table: made from two book shelves and loft flooring, covered with foam and fabric
Send us your own:
→ Share your home with Apartment Therapy: House Tour Submission Form
→ Are you a designer/architect/decorator? Share your residential project: Professional Submission Form.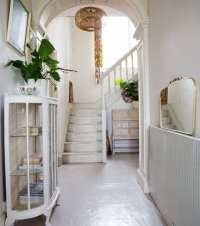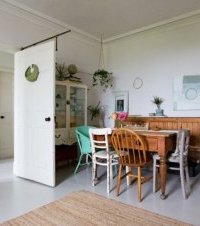 YOU MIGHT ALSO LIKE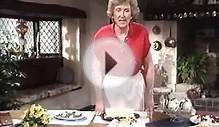 Farmhouse Kitchen - Baking Again - Yorkshire Television - 1989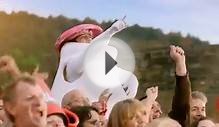 Farmhouse in Yorkshire Tea advert up for sale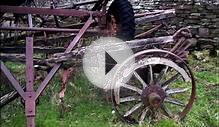 Derelict Farmhouse Yorkshire UK 2014
Share this Post