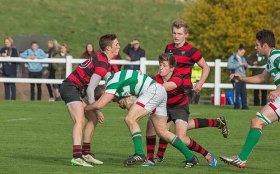 - What position do you play (and have you always played there)?
For school I play fly-half but for club and county I play at full-back. Up until 16 I hadn't played fly-half but have now had a couple seasons there for school and I am finding it much more comfortable. Still prefer full-back though.
- How has your season so far gone from a skipper's perspective?
Our season got off to a great start with a strong preseason and some good early wins such as Leeds Grammar and continued wins in the NatWest Schools Cup. Recently we have had some tough games against the likes of RGS Newcastle and Stonyhurst in which we started slowly and paid the price.
- And how would you assess your qualities as a captain?
I try to keep the lads focused on the challenges ahead by leading by example, and keeping morale high. I am also very good at staying calm in tense situations and managing the various characters in our team.
- What have been the stand-out games – can be losses which you learn from, as well as wins – and why?
For me the stand out game was against Leeds Grammar (52-0) as it was the first game of the season and having been on the receiving end of a thumping from them last year it was nice to get one back. Also we had a great match against Durham school, which we lost, but played very well and were unlucky not to come away with a win.
- Who are the characters in the team?
We have a great group of lads this year making every session enjoyable. One of the biggest characters is our No8 Charlie Wilson – he is constantly laughing and trying to be a back. On the pitch he has excelled, too – he has been one of our most consistent performers this season.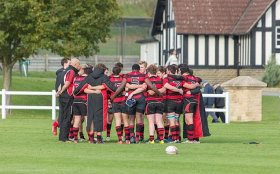 - What are your rugby ambitions? Would you like to be a professional player?
I'm not sure about being a pro, but would like to play at a decent level at university, and continue playing for the county.
- Who are your rugby idols?
New Zealand centre, and former rugby league star, Sonny Bill Williams, because of his offloads. Also Quade Cooper, the Australian fly-half who has just done to Toulon in France. His step is amazing.
- What would it mean to both you and the school if you reach the Twickenham final in the NatWest Schools Cup?
It would be a great achievement for the school, but for now we have to keep getting through the rounds.
- Historically, how have the school done in the competition?
From my memory I can't remember the last time that Ampleforth won this tournament. However, given our rugby history I wouldn't be surprised to hear if we had – but we've had no decent cup run in my time at the school.
- How confident are you that your team will go all the way this season?
It's quite a big ask for us but we will definitely give it a shot and, without doubt, relish each encounter.
The Telegraph is the media partner of the NatWest Schools Cup. Keep up to date at telegraph.co.uk/rugby
For more information on the NatWest Schools Cup 2015-16, match highlights, fixtures and live action visit
Share this Post