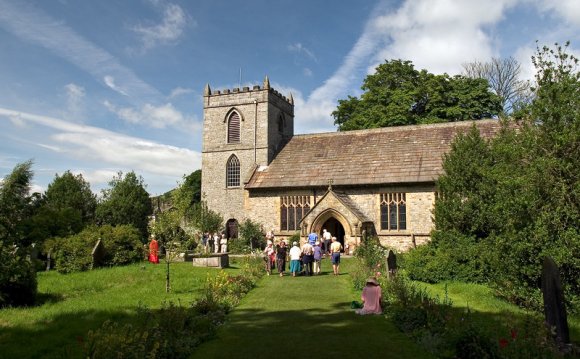 YHA Kettlewell is a 40 bed hostel set in the beautiful North Yorkshire Village of Kettlewell. The handsome stone building, which doubles up as the village Post Office, has been part of the YHA network for over 70 years. We have eight bedrooms, several large, some small, to accommodate large parties as well as couples or solo walkers on their journeys through the dales. You can hire the whole hostel for private parties and activity weekends all year round.
With 40 beds in the building and 40 chairs in the dining room, no-one has to wait to be fed! Really important after a long day out on the hills, there is a sofa and some comfy chairs in the dining room so people can congregate to chat and have one of our local beers in the evening. Alternatively we have a nice quiet residents lounge to sit, read or play a board game.
For our younger visitors, we have a nice park in the village with a stunning view of the valley, lovely walks along the River Wharfe or half a mile down towards Scargill House stepping stones for the more adventurous (it is not too far if you need to come back in a hurry for a change of clothes!). The Forbidden Corner is not far away and worth searching out.
The dining room doubles up as a classroom or conference room, bring a projector and you are away! We can seat 40 so the average class can fit nicely.
The Hostel
We have 40 beds in eight bedrooms:
A male dorm sleeping six
A female dorm sleeping six
2 x 6 bed rooms
1 x 5 bed room
1 x 4 bed room
1 x 2 bed room
A family room which has five beds, one of which is a double.
We have found that when hiring the whole hostel, large family groups have been able to divide themselves up all sorts of ways, which has been great to give the older kids a bit of space, keep the little ones close, or just have a space set aside for each family unit.
As the rooms are, on the whole, spacious, there is a bit of space to move around which is a big plus if you are here for a few days.
On the first floor we have a relaxing lounge where guests can unwind on our comfortable seating. In our dining room we have sturdy tables and seating, ideal for any meal.
Hire the whole place
This hostel is occasionally made available for hire on an exclusive basis. This means that you can have the place to yourself and choose how many of your friends, family, club mates, etc., join you. We allocate availability for exclusive use in blocks, typically up to 90 days in the future. If you are looking for space to stay with us on a normal shared basis, and can't see any availability three months or more into the future, then this hostel may be being held for Exclusive Hire. You can check availability for Exclusive Hire on our dedicated website, or use our live chat service for more information.
Tourist Attractions
Skipton Castle
15 miles
Over 900 years old, Skipton Castle is one of the best preserved medieval castles in England and is well worth a visit.
Bolton Abbey
14 miles
Take the steam train from Embsay or park at the Abbey for a stroll and picnic by the river. Don't miss the Gorge and Lovers Leap.
Wensleydale Creamery
The perfect destination for fans of cheese - including Wallace & Gromit! See the cheese being made and then try a sample.
Food & Drink
We have spent a long time at the Kettlewell Hostel working on a menu that is both delicious and full of good local produce. We use an award winning local butcher for all the meat, we only use free range eggs, and cook everything ourselves from scratch so we know what has gone into every delicious dish. If you have any special dietary needs please give us a call on 32 and we will do our best to help you.
Our menu changes with the seasons, please get in touch and we can email you a current menu or turn up and see what is up on the board! In order to keep the costs down we ask for all evening meals to be ordered by 6pm and breakfast to be ordered the evening before. Breakfast is at 8am Dinner is at 7pm and lunch is whenever you stop walking and eat it! Our menu looks like this, it is all really good!
For Breakfast:
Full Yorkshire Breakfast:
Local award winning Sausages from Jacksons of Cracoe
Yorkshire Dry Cured Bacon
Free range scrambled eggs
Hash browns
Baked beans
Mushrooms cooked in butter
Coffee, teas...
As much toast as you want
Cereals, fruit, juices
All this for £6 a head! Alternatively we can cook up some fresh croissants or porridge, and you can help yourself to the toast juice, coffee, cereals for 3.50 a head.
For Lunch:
We can make up great filled rolls with a choice of fillings: egg 'n cress, cheese salad, tuna cucumber, ham salad are all £2.50. Crisps, biscuits and homemade flapjack are all available to buy from our kitchen.
For Dinner:
We have a couple of good, homemade soups for starters at £2.50, served with organic wholemeal bread and butter.
YOU MIGHT ALSO LIKE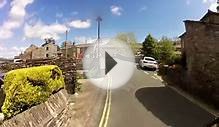 Motorcycle Ride North Yorkshire - Hawes to Kettlewell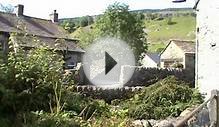 Yorkshire Dales Country Walk - Kettlewell-Cam Head ...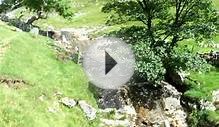 Dowber Gill Beck, Kettlewell, North Yorkshire 18 August 2010
Share this Post