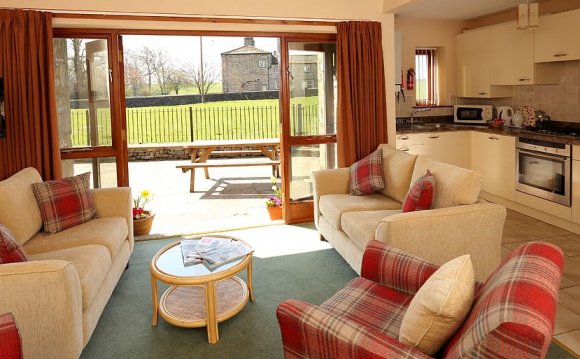 The barn is in a brilliant location, in idyllic countryside and yet only a few miles from the A1. Within a few miles in all directions you can visit some outstanding places of interest and be walking in wild places of breathtaking natural beauty.
The barn itself is tucked away near a small village and was everything we hoped it would be. We were a party of 2 couples in our 60's and so the 2 double bedrooms and 2 bathrooms worked well for us. The barn has everything you need for an enjoyable stay. We ate out and in and apart from the cooker extractor which was waiting to be fixed everything was to hand. However it could do with a pointer to the light switch to the kitchen area which was a little hard to find.It's down by the right hand side of the fridge! We used the table quite a lot and found there really wasn't quite enough room in that area. Maybe a rethink on shape, size or location would be good. But these were all minor things and in no way affected our enjoyment of the place. It is clean, light and airy and the outlook from the living area of the paddocks with the donkeys and the wonderful skies was really special. The Indian runner ducks and chickens were great fun too. Even at the end of September, the barn garden was a great place to sit and relax and soak up the atmosphere of the place.
Angela, the owner who lives in the nearby farmhouse, was really helpful and friendly but kindly kept in the background so that we always felt that we had the place completely to ourselves. Much appreciated.
We visited Newby Hall, Fountains Abbey, RHS Harlow Carr gardens near Harrogate, Ripon, Pateley Bridge and great swathes of the glorious Yorkshire countryside and loved every minute.
The staff at the Masons Arms in Bishop Monkton were very friendly and provided really good, reasonably priced food without a booking.
I can imagine that the barn would be a great place to stay at anytime of year and we wouldn't hesitate to book again or recommend it.
Share this Post