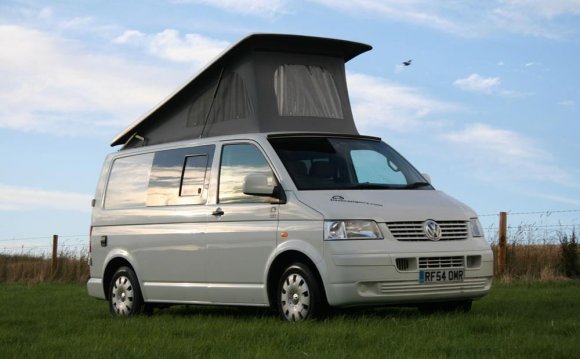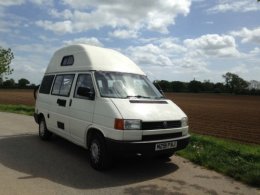 North Yorkshire is a large, scenic county bustling with campers available to rent for your holiday. You will find campers located at bases around the county including Middlesbrough, York and Harrogate. The campervan owners are seeking to hire their vws to people whether they're visiting the county or from it and cater for locations including Skipton, Selby and Ripon.
I am Coxy, hire me today!
Following on from the first version of the VW T4 Transporter Villa model in circa 1993 Richard Holdsworth Conversions released a new version called the Holdsworth Villa XL Camper. The interior layout is similar in design to the earlier VW T4 Holdsworth Villa but with updated upholstery and improved design and specification. The interior has cupboards along the side behind the drivers seat and the rear seat converts into a 3/4 width double bed. This Holdworth conversion is absolutely first class!!
Indie
Zero fuel costs, Zero emissions, Full on Fun! Imagine a holiday, experiencing some of the most beautiful locations in Britain. You could build a sandcastle, discover a waterfall or even see a steam train, all in one day! Because you control your holiday with no com...
Our Geoffrey
Our Geoffrey is a beautiful blue and white 1977 bay window VW camper. He was restored during 2013, is 4 berth with a cream interior, rock and roll bed (I love that term!) and all the usual VW querks and equipment. He loves an adventure no matter how short or long, great...
Dolly
The van is a superb modern camper with a reimo pop top that provides lots of head room whilst you are cooking, washing up or just enjoying your day. By night the reimo pop top space has a large comfortable double bed.
Ruby campervan North Yorkshire
Ruby is a classic VW RHD bay window camper, she was born in 1976 and is red and white with a new 1.6 litre unleaded petrol engine. Ruby is 4 seater fully restored with all mod cons and looking beautiful for her age and eager to explore.
2BerthVan
Recently converted 2 berth motorhome with swivel front seat chairs, rock and roll bed and toilet in the back of the van. Price is £50 per night plus insurance which either we or you can provide depending on where the best quote can be provided.
ferris
Meet Ferris, our Fiat Motorhome. He is a 6 -berth family camper available for hire, not as pretty as a bay window but a fantastic camping vehicle.
pickle
Pickle, our extra spacious Volkswagen T5 Campervan is perfect for a getaway where you dont require dining. It doesn't contain cooking equipment but does have a fantastic chest fridge.
This camper seats 5 and will sleep 4. It has 2 double beds: one ...
There are literally hundreds of camper vans available all over the UK, with owners who are eager to hire them out to our users. We also have a small number of vans listed in the the Republic of Ireland and on the continent. If you're thinking of taking a holiday in the near future use Camperbug to contact the many owners and companies who use this site to list their vehicles. Campervan holidays are like no other. Avoid crowded airports and bustling transfers and with the journey often as much fun as the destination, you're free to have the kind of holiday you've always wanted.
Share this Post