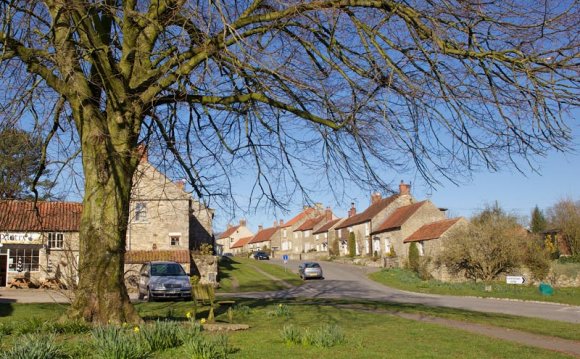 The medieval font.
Some of the stained glass windows and the west end of St Giles.
Depictions of sheep and pigs, very appropriate for this rural farming area!
| | |
| --- | --- |
| | |
| | The Pantry Tea Room is in the village of Lockton, north of Pickering on the North York Moors, North Yorkshire, England, just off the busy A169 Pickering-Whitby road. Lockton is another quiet and friendly village typical of North Yorkshire. The old medieval church of St Giles in Lockton is worth a visit. |
The Fox and Rabbit Inn is a very popular 'pub' a few miles north of Pickering, near the Lockton turn-off, on the busy A169 Pickering-Whitby Road. From it you can go to Pickering Town (above) or the seaside town of Whitby (left).
LEVISHAM VILLAGE
Levisham is also a lovely village and larger than Lockton.
Dove Cottage
The broad street and grass verges of Levisham Village.
The Horseshoe Inn in Levisham
St John the Baptist Church, Levisham, built in 1884 and a chancel added in 1900.
The medieval/18th century? font and part of an Anglo-Saxon (Anglo-Danish) carved stone - from the old medieval church of St Mary, Levisham?
THE OLD MEDIEVAL CHURCH OF LEVISHAM
The old church of St Mary is in a forlorn state and is some distance from the village itself, at the bottom of the bank south of the village by Levisham Beck near Levisham Mill Farm. The chancel still retains a roof but the nave is an empty unroofed shell.
What was the nave but the Romanesque chancel arch (actually Anglo-Saxon, Pevsner) still survives!
A few fragments of medieval masonry just dumped in the only bit of covered area and some monuments only a few hundred years old
Share this Post