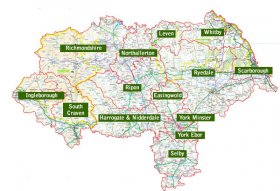 The Scout Association provides adventurous activities and personal development opportunities for young people aged 6-25.
North Yorkshire is, geographically, by far the largest of the 4 Yorkshire Scout Counties. Indeed it is England's LARGEST County!
It has a growing population of over 600, 000 spread over 8, 654 square kilometres (3, 341 square miles). The principal 'Urban' areas centre around York, Harrogate and Scarborough.
At the last census, North Yorkshire Scouts had a membership of nearly 8, 000 members spread over 13 Scout Districts from Leven in the north to Selby in the south and from Scarborough in the east to Ingleborough in the west. Take a look at the District websites:
Easingwold Harrogate & Nidderdale Ingleborough Leven - site in development Northallerton Richmondshire - site in development
Ripon & District Ryedale Scarborough - site in development Selby - site in development South Craven - site in development
York Ebor York Minster - site in development
What do we 'do' in North Yorkshire Scouts?
We believe all young people have the right to an adventure. This could be a Beaver Scout spending their first night away from home or an Explorer Scout going on their first international expedition, but adventure is at the heart of what we do.
From abseiling down a cliff to zorbing on a lake and lighting a fire to paddling on the beach – Scouting is all about everyday adventure. Our members participate in some of the most varied activities imaginable; all while having fun and learning how to get the most out of life.
Every section has different activities; meet at different times and in different places. There's always something different, exciting and new going on. As part of a movement with over 30 million members worldwide the opportunities are almost endless.
We change lives by offering 6 to 25 year olds fun and challenging activities, unique experiences, everyday adventure and the chance to help others so that we make a positive impact in communities.
Scouting in North Yorkshire helps children and young adults reach their full potential. Scouting develops skills including teamwork, time management, leadership, initiative, planning, communication, self-motivation, cultural awareness and commitment. We help young people to get jobs, save lives and even change the world.
So…what do our volunteers do?
This everyday adventure is possible thanks to our adult volunteers, who support Scouts in a wide range of roles from working directly with young people, to helping manage a Group, to being a charity Trustee. We help volunteers get the most out of their experiences at Scouts by providing opportunities for adventure, training, fun and friendship.
Share this Post