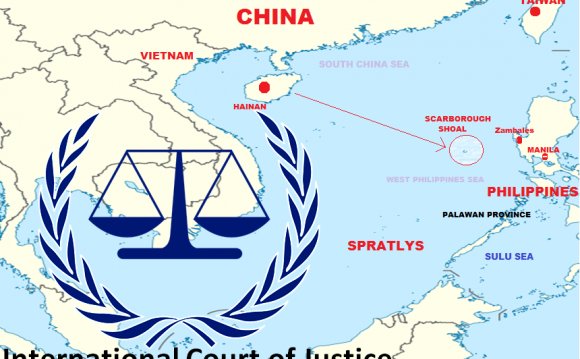 Like a downmarket version of Happy Families, Victoria Road in Scarborough is a ragbag of terraced shops comprising butcher, baker, ironmonger, Ali Barber's hairdressers, newsagents etc. It is not where you expect to encounter culinary finesse. I must have passed the Green Room scores of times, usually en route to the Stephen Joseph Theatre for a production by the town's best-known resident, Sir Alan Ayckbourn. Call me dopey but my wife had to enlighten me about the connection between the theatre and the name of the Green Room.
During our annual summer stay in North Yorkshire, we generally cook at home, luxuriating in the fantastic quality of local surf and turf, but I was lured into the restaurant by a pot of lemon posset. Acquired from a spin-off deli opposite, this citric quintessence indicated the prowess of the young chef/patron Rob Porter, a local boy who worked at Longueville Manor in Jersey before setting up for himself seven years ago. It was quite likely the best £1.10 I have ever spent. A day or two later, my wife and I were installed at one of the Green Room's half dozen tables. With a polished wooden ceiling and a defunct enamelled range in one corner, the interior might be a film set for a French bistro. Visible through a large hatch, the kitchen attracted attention with occasional dramatic eruptions of flame and the curiously comforting rattle of pans.
Our waitress Linda, who turned out to be Mr Porter's mum, said, "We've got three menus to choose from tonight". Not what you get at every backstreet restaurant. There was a six-course tasting menu at £30 and an à la carte option at £30 for two courses or £35 for three. Finally, a fixed-price menu came in at £12.95 for two courses or £14.95 for three.
In a move possibly unprecedented in the history of restaurant reviewing, we went for the cheapest. It has to be admitted, however, that this was not so much a blow for culinary egalitarianism as the appearance of certain personal favourites, including the seductive posset, among the fixed-price options. Who could resist a starter of 'own recipe corned beef hash'? Instead of the customary homemade slurry, the hash came in the form of large, spherical croquette. Judiciously seasoned, it wore a fried-egg hat and sat in a restrained, homemade version of HP. My wife's three Withernsea crab fritters were "lovely and crispy with a good crabby taste – but what's the flavour of the mayonnaise?". "It's Bloody Mary, " said Linda with a wince. This nice Yorkshire lady added, "I don't like saying that".
My wife's main course was 'pan-seared calves' liver', another default preference that lived up to expectations. From a Scarborough farm called Stepney Hill, the plump strips – pink, tender and tasty – had more character than the customary Dutch calves' liver and came on a bed of idiosyncratic 'bubble and squeak' consisting of crushed potato with onion, watercress and little salad leaves.
Chosen from a couple of specials chalked on a blackboard, my mallard breast was generous in quantity (eight slices) and wonderfully juicy within the perfectly seared exterior. Topped with mandolined courgette deep-fried to a crisp curl and underlaid by tasty beetroot-infused mashed potato, it was a singularly satisfying dish, again notable for a characterful flavour lacking in domesticated duck. I'd have been happy – well, unalarmed – to pay £20 for this course alone. Mr Porter explained the bargain: the specials came from a hunting friend. "His supply is unpredictable – that's why it's cheap. Sometimes it's mallard. Sometimes it's pigeon. Sometimes he turns up with a whole deer."
The accompanying dish of vegetables was an unexpected bonus. We polished off a heap of stick beans, sweet potato and cauliflower. The intriguing white nuggets proved to be parsnip. Fresh, white and young, they were in a different league to the woody Christmas veteran roots. Almost all the vegetables came from Linda's garden. "The neighbours think I'm mad with hanging baskets of strawberries and tomatoes."
Inevitably, my wife finished with posset, the same tangy pud sold at the shop but bolstered with blackberries and strawberries. My cheeseboard, which was accompanied by a stack of biscuits and a tremendous dollop of fresh, light tomato chutney, consisted of Smoked Wensleydale, creamy Garstang Blue from Lancashire and a pleasing ewe's milk cheese from local producer Shepherd's Purse.
YOU MIGHT ALSO LIKE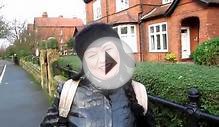 Scarborough North Yorkshire England UK Mandie & Frank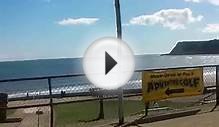 North Bay Railway, Scarborough North Yorkshire August 2013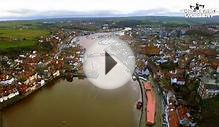 North Yorkshire
Share this Post