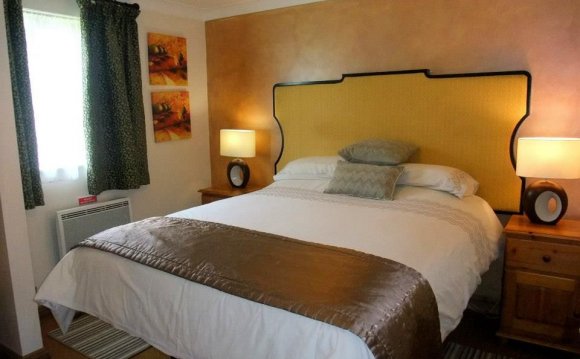 (Hot tub is on special offer – see short break offer page)
The hot tub is available to hire as an add-on to your stay in all our cottages: Hayloft, Tack Room, Groom's Rooms, Head Lad and Patrick Brompton Hall Rooms.
The hot tub is situated adjacent to the stable block housing our four Dalesend Cottages, in an area of secluded mature beech woodland reached by walking along a hand crafted walkway and over a private bridge across a stream. It has views out over grassland and woods, is made from larch, and features LED lights and has a roof to keep out the worst of the weather.
The hot tub is available to hire in 2 or 3-day booking slots (you can book two slots to have 4 or 6 consecutive days use if you are staying with us for a week) and it will be your private area for the duration of the hire. The water remains constantly hot at 390C to eliminate the uncertainty often experienced with hot tub hire, notably the struggle to light and maintain a log boiler to heat the water, and then the delay to use it whilst you wait for the water to heat up.
Dalesend Cottages hot tub will ready from 4pm on your first booked day. The water is kept clean by a modern water filtration system and a cleaning chemical. Dalesend Cottages inspect the water and tub daily to ensure we our high standards of hygiene and service are maintained during your hire.
Terms and conditions apply to hiring the hot tub, and a security deposit may be taken when you arrive at the start of your holiday at Dalesend Cottages. If you book the hot tub online a deposit reading on your card will be reserved
When you book the hot tub
If you make a booking for the hot tub, please bring your bathing attire, dressing gown and some shoes suitable for walking to the hot tub. We provide towels for you to use in the cottages, but you may wish to bring an extra one of your own for the hot tub.
On your arrival day, you will be asked to sign the Hot Tub booking form (which you will have read and agreed to if you booked online) and you will also have the opportunity to read this before booking in person if you are already a resident in a Dalesend Cottage.
Share this Post