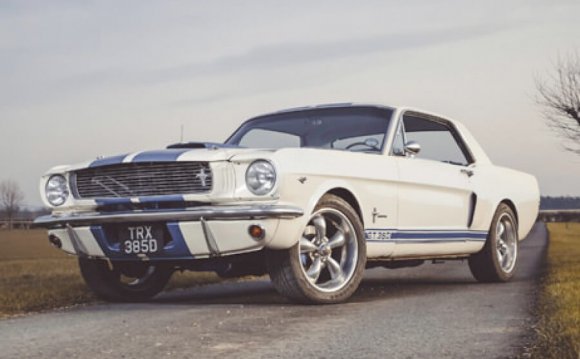 Whether it's for a gift or for a wedding car, this dream car hire will be a delight. With its long sloping bonnet, faired-in headlamps and centred twin exhaust, the sensual lines of this classic cat are celebrated the world over. On its release Enzo Ferrari called it "The most beautiful car ever made", and he knows a thing or two about good looking cars! Behind the wheel the V12 engine of the E-Type purrs its way around the Yorkshire countryside, its smooth engine performance matching its gorgeous looks.
Our 1971 E-Type Jaguar series 3 coupé is finished in regency red with a biscuit leather interior. Compared to our E-Type Roadster, which only has two seats, there is more space in the 2+2 coupé. It has two small seats in the back, suitable for children, and more luggage space behind the rear seats. If there are only 2 of you then the rear seats can be folded down to give more luggage space.
Although it's a coupe, you can still feel close to the elements because it's original Webasto concertina type sunroof means that effectively the whole roof opens. You see much more of the sky than you do with the half roof you tend to get on modern cars with sunroofs.
The 12 cylinder, 5.3 litre engine powers the Jaguar gracefully to 60mph in 6.8 seconds. The Jaguar sports car we have for hire in Yorkshire has a manual gearbox, power steering, independent rear suspension and all-round disc brakes.
Previous owners of our E-Type have carried out a bare metal re-spray, as well as an engine and gearbox rebuild. For an E-Type Jaguar hire in Yorkshire, what more could you ask for than a car which may even help you find your way around? Unusually for a car of this type, our E-Type has spent most of its life in and around Yorkshire.
History of the E-type Jaguar
The E-Type Jaguar is possibly the most well-known sports car in the world. Derived from a racing car, it is an icon of 1960s freedom and ebullience. It was a must have car in the Swinging Sixties for sophisticated young men, including celebrities such as George Harrison, George Best and Frank Sinatra.
The E-type coincided with the advent of the mini-skirt, and according to Joanna Lumley, girls at finishing school were given lessons on how to get in and out of one. It's interesting that British finishing schools thought their young ladies would be travelling in E-types rather than Ferraris.
Designed in Britain built in Britain, the Jaguar E-Type became an instant must have when unveiled at the 1961 Geneva Motorshow. The designer, Malcolm Sayer, based its styling and design on the Le Mans winning D-type.
An aerodynamics expert, he took the sleek contours of the D type and made them work in a road car. Although designed as a road car, the E-Type became an accomplished GT racer, and was very successful in SCCA Production sports car racing. With a top speed of 150 mph in 1961 it set new standards for road cars.
Thanks to its fabulous styling and performance the car was a huge success for Jaguar. Marketed at a price significantly less than those of its competitors like Ferrari and Aston Martin, the sales figures ensured it was a financial as well as racing success.
72, 000 Jaguar E-Types were built between 1961 and 1975, many making their way across to the USA where they were sold as the Jaguar XKE. The E-Type was succeeded in 1975 by the Jaguar XJS
Assembled in Coventry, there were three series of the E-Type. Ours is the series 3, which was built between 1971 and 1975, during which time 15, 290 cars were produced.
The Series 3 was notable for its slatted front grill, flared wheel arches, and power steering. In 1971 Jaguar used the series 3 car as a showcase for its first V12, a magnificent engine that turned the E-type into a powerful touring car.
The Jaguar E-Type is a design classic, a mixture of beautiful curves and high performance which has ensured its place in motoring history. E-type hire in Yorkshire gives you the opportunity to drive this motoring legend. Savour the Jaguar experience – drive one of most important motor cars ever made.
YOU MIGHT ALSO LIKE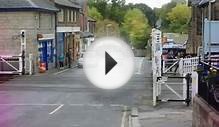 Vauxhall Victor 2000 FD at North Yorkshire Moors Railway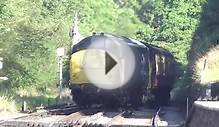 NYMR Diesel Gala September 2012 North Yorkshire Moors Railway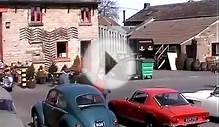 CLASSIC CARS - Car Run Masham 2009 - Part 1
Share this Post